Gregory Louis
Meet my husband: Coach Gregory Louis.  He is our Co-owner/founder, CEO of Soccer Kickers located both in East Lansing and Grand Blanc, the tech whizz programming the websites, the man on the other line of the myriad of phone calls and emails, the curriculum developer, coordinator, tactical and technical skills consultant, the philanthropist, the designer of all of our Soccer Kickers gear and clothes (check out our cool looking jerseys and uniforms!) and the innovator.
Gregory Louis is a husband and a father to 2 beautiful young girls and is completely outnumbered in the house! Gregory is a former professional soccer player. He graduated from University of Michigan with a degree in Computer Information System with a focus on software development and data sciences.
He was born and raised in Haiti and later moved to the Dominican Republic (DR) where he learned Spanish, his third language. He later learned English, his fourth language when he moved to the US. Gregory learned a lot of it while playing soccer in San Diego. Soccer truly is THE international sport!
Coach Gregory has a rich soccer background that started at the age of 3. He started at Ana-foot Soccer Academy in Haiti, later on he was recruited to play for the Haitian National Team: U-17. He played professionally for the top Haitian Team in Division I: FICA. He also was the captain of a team in the Dominican Republic. When he moved to the US, he attended Mesa College where he played for the Men's Soccer Team CCAA (California Collegiate Athletic Association). He later, was recruited by the former England and Newcastle player who is now a Fox Sports anchor: Warren Barton to play and compete in the NPSL (National Premier Soccer League) for San Diego Flash. Throughout his career, he has mentored as well as coached children in soccer. His last position was as a coach in California where he taught children ages 2-12.
He loves currently coaching children ages 2 all way to college level and is currently coaching the GLCC teams hoping for another national win!
He is the man behind the scene who codes all of our websites. As his wife, I like to call him the "computer doctor" and believes he can "resuscitate" back to life any computer by fixing any hardware or software computer issue.
Gregory studied Computer Repair and Support in the DR. He later worked in San Diego as a Quality Assurance Tester for EMN8 where he tested and debugged/wrote computer codes for Burger King and Jack in the Box kiosks menus in French and English. He translated, proofread, and edited French Menus for customers in France. Gregory also has the fun job of interpreting for different organizations in French, Spanish, and Haitian Creole! When he is not busy being superhuman, you will find him meal prepping, grocery shopping, helping with homework, and just being a complete goofball with his daughters.
His favorite colors are black and white and his favorite food is actually just a full plate of "rice and chicken." So he says.... But what he doesn't tell you is that he is the true Cookie Monster and as his wife I have to hide the cookies. Just sayin' Gregory…
"I really enjoy working with children and passing on my love of soccer to them. That passion and love drove me to come up with Soccer Kickers for little ones after noticing a shortage of physical activities in Michigan, in particular soccer for children ages 8 and under. Our program factors in the developmental stage of each child to keep them physically active, live a fit and healthy life and MOST IMPORTANTLY HAVE FUN!! I hope this program inspires every single parent in our community to join us with their little ones and for their children to fall in love with soccer. " Coach Gregory
Godelièvre Louis
Dr. Godelièvre Louis
Meet my wife:  Dr. Godelièvre Louis, known as coach Godie on the soccer field. She is the co-owner/ founder, coordinator of Soccer Kickers.
Born in the Democratic Republic of Congo, raised in France and later Texas, Coach Godelièvre speaks four different languages (Lingala, French, English, Spanish learned in those orders). Coach Godie is a wife, a mother of two amazing young daughters! She graduated from MSU College of Human Medicine. She is currently doing a combined residency program in both Internal Medicine and Pediatrics. She's super excited about Soccer Kickers and sees it as an antidote to several of the chronic diseases many of her adult patients face. She loves that it gives children the opportunity to fall in love with living fit and healthy lives now before they reach adulthood as well as helps children improve their developmental milestones including gross motor skills, social skills and problem solving skills. When not busy taking care of patients, coordinating soccer events, or coaching soccer, she seeks every opportunity to spend time by the water with her family. She is starting to understand the charm of these Michigan "beaches" and possibly starting to like swimming in freshwater lakes better than the salty ocean.
Godelievre earned a Bachelor of Arts in Social/Medical Anthropology and a secondary degree in Spanish from Harvard University where she also worked as a tutor of various subjects/personal statement brainstorming which she continues to do as time allows and need arises. If interested, let her know!
Godelièvre has been working with children for a long time whether it's tutoring/ mentoring them or coordinating activities at the AIDS Service of Dallas for children ages 2-18. She also worked for an NIH grant in San Diego doing research, outreach, and education.
Favorite color: purple! She loves all sorts of foods from good Haitian food (plantains anyone?) to some good Tamales. Know of any great restaurants or something that matches the excellence of Texas BBQ? Reach out! She has been found bringing an extra backpack filled with tamales on her flight back from visiting loved ones in Texas or Cali and ready to beg TSA if needed.
"My love of sports started in France watching soccer games and continued in school where I ran track, played volleyball and basketball. But my love of soccer grew when I met my husband Gregory, and I would cheer him on as he played. We now play and coach as a family"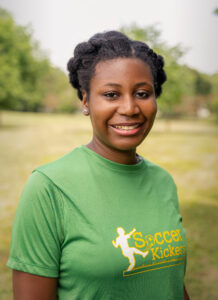 Coach Kristen Squiers
"My name is Kristen Squiers. I studied at Central Michigan University to earn my Bachelor of Science in early childhood development and learning with a minor in child psychology. I was born and raised in Okemos, MI as the oldest of three siblings; one brother and one sister. Before my days at CMU, I attended and graduated from Okemos High School, where I was very active in sports, musicals and a club called "Kids In A.C.T.I.O.N.!" My passion for working with children developed over the eight years that I volunteered as a camp counselor for Vacation Bible School at the People's Church of East Lansing. I worked for both the elementary program and the preschool program."
Through Soccer Kickers, I hope to create close relationships with all of the children and gain their trust as a coach. I'm also looking forward to meeting and making connections with the families of every child.
I have been playing soccer for 25 years, through high school and college as well as recreational leagues post college graduation.
My favorite position is defensive mid./left wing back. My favorite color is Blue! My Favorite food is Ice Cream!"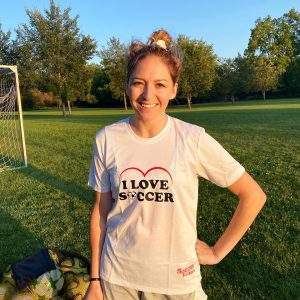 Coach Kate
Hello, my name is Kate Fleshner. I studied Nursing and played soccer at Clarke College in Iowa. I started playing soccer at the young age of 4 and received a scholarship to continue playing through my college career. During my soccer career I was a center midfielder. I am a nurse at Sparrow Hospital and am currently finishing up my Nurse Practitioner program.
My favorite color is green and my favorite food is Lasagna.
I enjoy spending time with my 3 daughters and spending time outside. I moved to Michigan last year from Arizona and have enjoyed traveling around the area and experiencing the seasons.
Soccer Kickers is an experience that I am very excited to be a part of and to see the impact we can have on the children. I want to be able to bring my passion for the sport to the younger generations and help them grow their love for the sport. I believe that getting involved in the community through sports is a great way for me to role model my passion to my 3 daughters, and to provide a fun environment for all kids! I have been a coach for multiple teams and different age groups and am excited to be able to coach all ages and help kids learn the game and develop their skills! "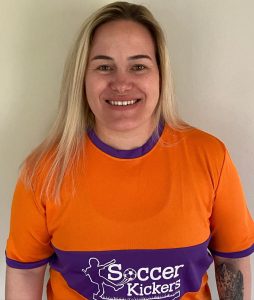 Coach Arezu
"I was born in Saginaw, MI where I developed a huge passion for Soccer from my dad, who, at the time, was coaching a rag-tag team of kiddos who eventually went on to win the Tri-City championship for their division. Wanting to be just like them, I joined a summer program where I was promptly hit in the face with a soccer ball and vowed to never play again. I was five years old at the time so that vow didn't hold too much weight because I picked up the sport again two years later when our family packed up and moved across the state to Grand Rapids. From there, I continued to play travel soccer throughout the rest of my childhood and into high school for the Varsity team. I started out as a Striker on the field, worked my way through the midfield and eventually ended my soccer career as an outside midfielder. After high school, I continued to play Intramural soccer during my undergrad as well as into my current graduate studies. While soccer has always been my ultimate love, I spent many years in various different sports including Swimming, Gymnastics, Track & Field, and Cross Country.
After high school, I went to Michigan State University and got my BS in Physiology and ultimately decided I wanted to pursue a career in medicine. I'm currently starting my second year at the MSU College of Human Medicine which is how I got involved with the Soccer Kickers program. I've spent some time volunteering as a soccer coach for youth programs while I was in high school so I'm looking forward to sharing my love for the sport with these kiddos and teaching them the importance of leading happy and active lives!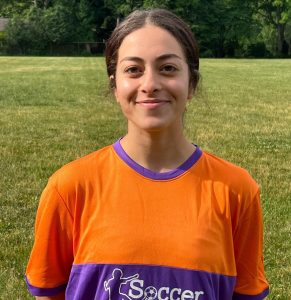 Coach Matthew Todd
"I was born and raised in Columbus, Ohio, Go Bucks! I recently relocated to East Lansing to be with my fiancee, who was accepted into the Veterinary program at MSU. I attended Hanover College in Southern Indiana and received a Bachelors Degree in History and Secondary Education. Before moving Michigan I coached High School soccer, as well as worked with younger children for a few years at Camp Wyandot in Dublin, OH. I have played soccer since the first grade. I started out playing as a striker but in high school I was moved to defense and I have loved that ever since. Some of my best memories are hanging out with my travel soccer teammates from high school during tournaments. For example, once we decided to push all the buttons on the elevator in the hotel and right when we got off a man and his wife got on and he looked at all the buttons lite up and looked back at us and said "why you kids gotta do this?" For some reason I still find that funny, even though I would have been annoyed if I were him. My favorite color, even though I am a Buckeye fan, is Green. Looks like I have a conflict of interest now. My favorite food is Hawaiian Pizza. Yes, pineapples do go on pizza! Some of my hobbies outside of soccer are playing video games, watching movies (I am a huge MARVEL fan), and hanging out with friends. A fun fact about myself is that I am a huge Liverpool fan and I was able to watch one of their games when they traveled to St. Louis a few summers ago; but, it is my dream to go watch them plat at Anfield one day. Another fun fact is that I was fortunate enough to be able to study abroad in Ireland. If anyone is a Star Wars fan, I saw the library at Trinity College, which was the model for the Archives in Clone Wars! Working with Soccer Kickers is an amazing way for me to stay involved in soccer and the community and help me share my love for soccer with your kids! "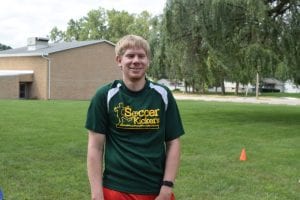 Coach Mitch
After growing up in Kalamazoo, Michigan, I attended Michigan State University where I studied human biology. After graduating in 2019, I spent the following two years working before returning to Michigan State University to begin my medical education. I am entering my 2nd year of medical school and eager to see where my career will lead me.
I grew up playing soccer until I was about 12 and then rediscovered my love for the sport in college through intramural soccer leagues and attending the men's and women's Michigan State soccer games. Besides soccer, I grew up playing baseball, basketball, golf, football, hockey, and running cross country. I continue to participate in athletics through intramural league and community leagues.
My favorite color is SPARTAN green and my favorite food is ice cream!
In my free time, I love spending time outside. Some of my favorite hobbies include hiking, backpacking, kayaking, and rock climbing.
A fun fact about me is that I played tee-ball on the South Lawn of the White House.
In addition to Soccer Kickers, I have been fortunate to work with the Special Olympics, Camp One Step (a camp program for children with cancer), Read to Succeed, and the Refugee Development Center.
Many of my favorite memories come from the sports I played growing up. I am excited to build relationships with the kids and provide them the opportunity to be active, have fun, and make memories. I look forward to the energy that the kids bring to soccer and being able to be a part of the Soccer Kickers community!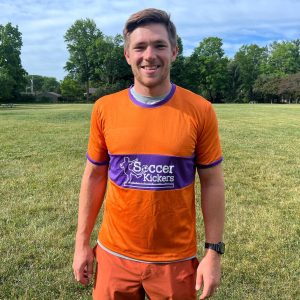 Coach John Lambert
"I graduated from GVSU with a bachelor's degree in accounting. I graduated from Davenport University with a master's degree in accountancy. I utilize my accounting knowledge working for the State of Michigan, where I have worked for 10+ years.
I played soccer when I was younger but left the sport due to a coach focused solely on short-term success than long-term development, which ruined the experience for many players. After that point, I focused my attention on other sports, namely football, wrestling, and baseball. It wasn't until college that I fell in love with "the beautiful game" and have immersed myself in it. I am a member of United States Soccer Federation and am going through the certification ladder.
A little bit about myself. My favorite food is BBQ. My rib recipe is a crowd pleaser. It just takes time and preparation – low and slow. My favorite color is green.
In my free time, I enjoy traveling with my family. One of our favorite trips was spending a week in the Upper Peninsula. We were able to see some of the amazing sights like Pictured Rocks and Tahquamenon Falls.
During the winter months, one thing that we do as a family is ski. We will usually stay close to home during the school week, going to places like Mount Brighton, Alpine Valley, and Mount Holly. For spring break, we like to go further north in Michigan or to the Rockies. In the past, we have driven to Colorado and hit the slopes of Beaver Creek, Breckenridge, Keystone, and Vail.
Two fun facts about me are I play guitar and speak German. I have played guitar for 20+ years and perform a "Riff of the Week" on Facebook – where people can guess the song played. I play everything from The Beatles to Guns N' Roses to Taylor Swift. I have also given guitar lessons to aspiring musicians in the past too. Regarding German, I had the privilege to study abroad in Germany for a semester. I studied in Lüneburg, which is a small college town near Hamburg. We would go to class every day and take a test every other Friday, which allowed for traveling to farther locations given the three-day weekend.
I am excited to work with Soccer Kickers. Sports and soccer can impart many life lessons, such as teamwork and sportsmanship. I love seeing the smiles of kids learning the game for the first time. Creating those positive memories is what made me become a coach. "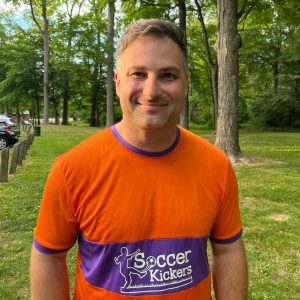 Danielle Chirdon
I am a third year law student at Michigan State University College of Law originally from Newark, Ohio. I received my undergraduate degree from Marietta College where I played on the women's soccer team for four years and started at left back my senior year. I have played soccer since I was eight years old and currently play on an intermural team. My favorite food is soft pretzels and my favorite color is green. When I'm not studying, I like running outdoors and spending time with friends and family. Two fun facts about me are that when I studied abroad I got to play soccer with people all over Europe and my mom is from Finland so we speak English and Finnish in my house. Soccer Kickers is a way for me to get involved with the local community and share my passion for soccer and sports. I think it's important to create opportunities for kids to be active and have fun. WhenI was in high school, I babysat for my neighbors and have experience running basketball camps for 5th- 8th grade children."
Ashley Solo
I am currently a lawyer. I  studied at Michigan State University Law Scool. This summer, I worked for the Pennsylvania Office of the Attorney General. I received my undergraduate degree from Penn State Behrend and studied Political Science. I also played collegiate volleyball and served as a captain. In 2012, we made it to the NCAA tournament. I was named to the AMCC All-Academic team four times. In our free time, my team and I participated in the TOPS Soccer program. Each college athlete was paired with a young child from the area who had either a mental or physical disability and we would play soccer and other games with him or her once a week. I also coached Junior Olympic volleyball for a year for a team of 12 and 13-year-old boys and girls. Over the years I have coached numerous volleyball camps and at one camp was named "Counselor of the Camp." In high school, I was on both the Varsity Volleyball and Cheerleading team.
My favorite color is purple and my favorite food is any pasta dish. In my free time, I like to workout and play with my cat.
Two fun facts. 1) I met President Bill Clinton and 2) I competed in the Miss Erie Pageant as part of the Miss America Circuit and raised over $150 for the Children's Miracle Network.  I served as a nanny for three summers and have babysat many children throughout the years. I love working with kids. Now that I am in law school I am not able to interact with kids as much as I used to, so Soccer Kickers gives me an opportunity to spend time with children. In addition to coaching, I have also spent a lot of time volunteering with children in various capacities. I volunteered with a Domestic Violence Shelter in the playroom and really enjoyed my time with the kids. In high school, I was part of my school's Preschool Department and taught children through the program. In college, I took a Human Development Course and learned a lot. I think it is important for children to get involved with sports and other extra-curricular at a young age, and I am excited to be part of that experience! "
 Nicholas Brule
I was born in Berkeley, California but grew up in the Upper Peninsula or Michigan in Iron Mountain. I attended Grinnell College for undergrad and majored in Biological Chemistry. 
I am currently an M3 at MSU College Human of Medicine. 
I have played soccer since I was six years old. I played competitively starting at age 10 and continued to play competitively through college. I played forward and midfield. I also played ice hockey for 14 years. 
My favorite food is pizza and my favorite color is red. 
In my free time I enjoy playing racquetball and weight lifting. I also enjoy spending time with friends. 
I have a dog named Rooney (after Wayne Rooney) and I like to wear funky socks. 
Soccer has intertwined with my life for a very long time and has had a positive influence on me. I am excited by the opportunity to share my passion with children as they begin to experience the game. I am hoping I will be able to help them find joy in soccer. 
I have coached youth soccer teams previously in my hometown and college town. I found those experiences very enjoyable.
 Kaitlin Herdman
I grew up in rural Michigan, a small town called Unionville in the thumb area. I obtained a bachelor's degree at Saginaw Valley State University, and am now in my third year of medical school at Michigan State University. I've always been a very active person. I did play soccer while in middle school, but not formally since that time. It wasn't very competitive, so I didn't have an exact position, but I did like playing the game! I also played basketball through my senior year of high school. My favorite color is purple! And my favorite food is anything that contains chocolate. In my free time, I enjoy running, reading, and exploring new places! I also really like to go hiking in the summer. Two fun facts about me: I ran my first half-marathon last year, and would like to keep training for a full marathon; I LOVE to bake! As a medical student, I really want to get involved and be able to give back to the Lansing community. Soccer kickers seems like a fun and active way to make an impact on the lives of the children of Lansing! In the past, I have been a co-coach for Girls on the Run, a 5K training program that uses a self-esteem building curriculum combined with physical activity to change the lives of 3-5th grade girls. I also helped supervise in a kindergarten classroom for one hour per day during high school."
Coach Alcides
I am originally from Havana, Cuba, but I've been living in Michigan for over 4 years. I also lived in Florida for a couple of years before moving up North. I am a second year PhD student in Neuroscience at U of M where I study epilepsy, among other topics. I've been playing soccer since middle school always as a defender or a defensive midfielder. My favorite food are sandwiches (any sandwich), which is a fancier way of saying I love bread. My favorite color is green, and I like reading and playing music in my free time. Two fun facts about me: I am a Liverpool FC fan, and I have a dog named Napoleon. My work with children goes back to Cuba where in 2009 I helped in coordinating and opening a Community Art Studio in a very low income neighborhood. Kids of all ages used this space to paint, make sculptures, learn art history, and overall have fun. After that I've mostly taught science to kids. I've worked with the Girl Scouts, some Elementary and Middle schools in Florida, and more recently I helped judging during the Science fair at Forsythe Middle School in Ann Arbor. Working with children is a unique opportunity that I believe can bring out the best in any person. It is not only about exposing them to sports, art, or science, but to teach them good values such as honesty, teamwork, and courage. All of it always being done through cultivating their unique character, and encouraging their individual strengths.