Donate
WHY DONATE TO OUR SOCCER PROGRAM?
@Soccer Kickers.michigan is a year-round program that has as its goal helping children live fit and healthy lives while learning the fundamentals of soccer and most importantly having FUN.
Our main goal is for our children to have an enjoyable experience through soccer. Each soccer session provides parents opportunities to be involved whether it is cheering for each player who is on the way to scoring a goal or by playing fun games with their children. Soccer Kickers is fun for everybody!
About Soccer Kickers: Soccer Kickers is managed by parents who are full-time students, and who are passionate about having a positive impact on children's lives through the beautiful game of soccer. We do not have any sponsors, nor do we receive any grants. We started this program two years ago with a dream, a soccer ball and at the time our 3-year-old daughter and have been able to continue it because of the amazing parents in our program. The program started August 2017 with only three children (one of them our daughter). Since then we have served about 500 children in our community. Every season we are able to do a lot from hiring the best coaches, buying soccer equipment, customizing prizes, stickers in addition to providing free events. Last year, we donated to non-profit organizations such as East Lansing Kiwanis Club, Summerplace United that works with refugee youths, and Willow Tree Family Center.
Your kind donation will:
Help give a child a chance to enjoy the benefits of physical activity.
Help us buy more soccer equipment.
Help us provide children with a program that gives them awesome coaches and mentors.
Help low income families be part of our program.
Help us offer free soccer sessions to different communities.
Help us offer scholarships to children interested in science, coding and robotics.
Help us offer free events to our community.
Please help us continue impacting children's lives.
With a little help, an empty lot can be transformed into a safe place to play.
Other ways to give: You can also write a check to Soccer Kickers or give us a call. You can also donate soccer gear.
Please email us info@soccerkickers.com or call : 619 502 0147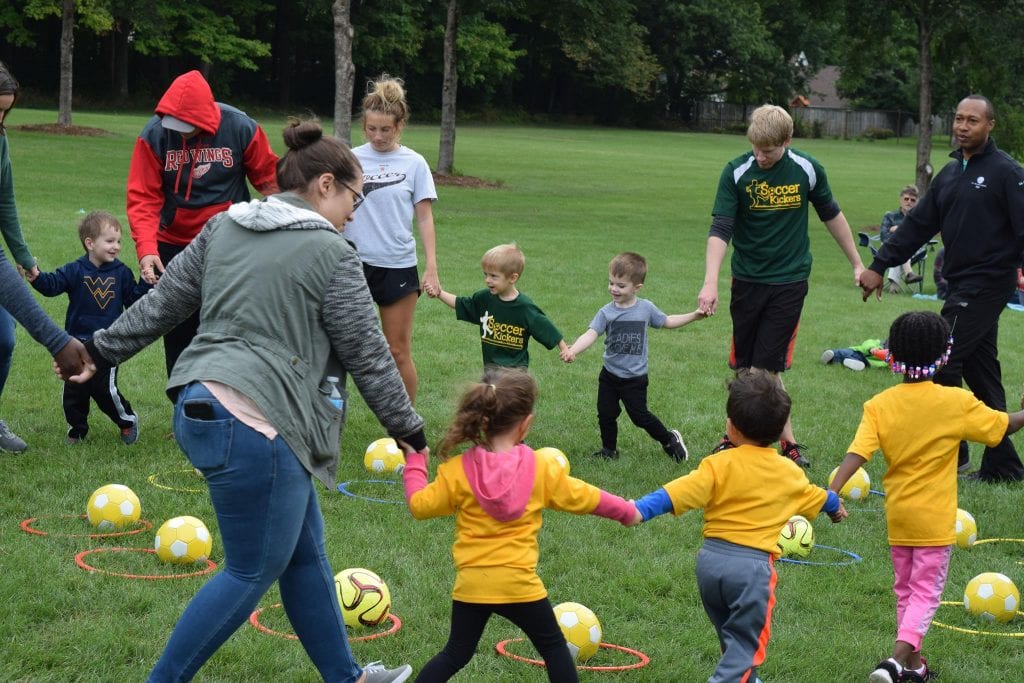 Testimony
"We are so grateful for Soccer Kickers. Our daughter is learning how to be a supportive teammate. It's exciting to watch the children and adults celebrate and support each other. We appreciate the culture of kindness, support and encouragement we experience in this program." Shalonda
"My daughter, Kendalyn Grace, has been enjoying the gift of learning the fundamentals of soccer in the most fun way from Coach Gregory Louis, his beautiful wife, Coach Godelievre Louis and their team of coaches. In addition to their international experiences and Coach Gregory's experience playing soccer professionally, they provide a loving and fun soccer experience to our children throughout the community. They make sure every child experiences far more than just "learning to play soccer". As I witness firsthand, the faces of excited children (ages 2-6) and proud parents, on Saturday mornings, it blesses my heart. I just wanted to share this with you as another beautiful story that's unfolding here in the Lansing area, benefiting our children and families. #SoccerKickers". Sonji
My daughter is a special needs child and at times she found it difficult to engage and participate with the other kids, but Coach Gregory was great at reaching out to her, getting her to run alongside him, kick the ball, and even score a goal! She was so proud of herself and I am very grateful to Coach Gregory for getting her to participate. He is such a great and involved coach and is very passionate about making sure each child has a good time. Thanks Coach Gregory! Anonymous