Level I
Beginner: Ages 2-3
The focus is on general movement, play and interaction with constantly changing fun activities that keep them focused.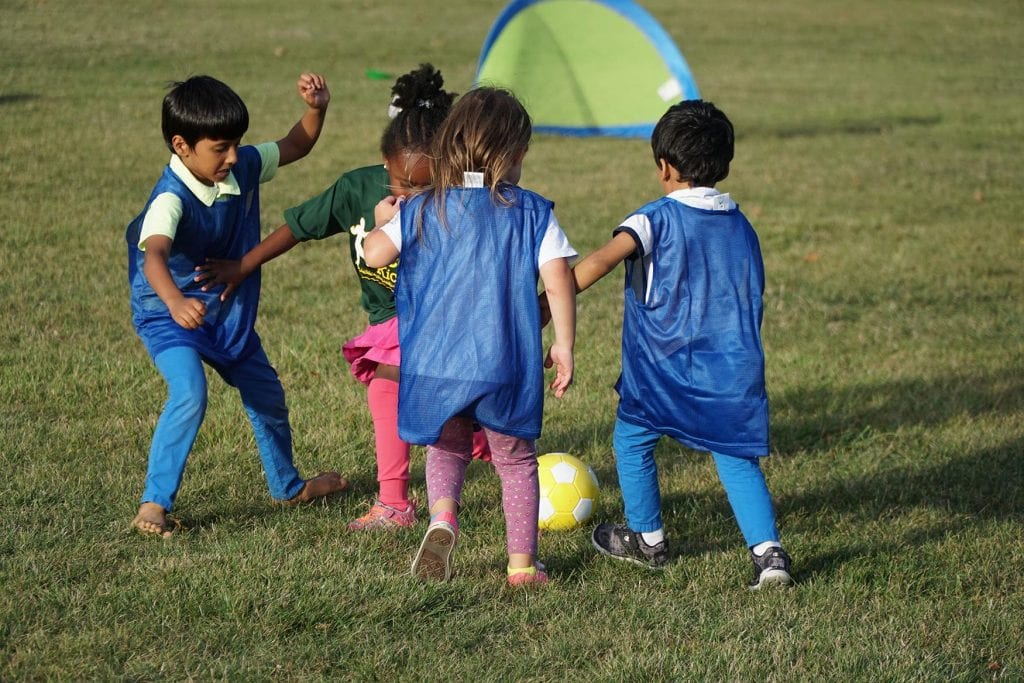 Level II
Intermediate: Ages 3-5
In that early stage, the main goal for your children is to have enjoyable experiences. That's why we develop social skills with creative activities where they learn taking turn, sharing and basic soccer skills such as passing, shooting, and juggling while playing fun games.
Level III
Ages 5-8
Children will build social and individual skills, improve fitness, develop self -confidence, coordination, and engage in teamwork. They will learn soccer strategies by playing fun games in a safe environment that fosters creativity.
Our coaches
Our coaches are well trained by an early childhood educator and a former professional soccer player who has tremendous experience working with children and keeping them motivated, focused, interested and having fun!

Every coach will receive a current First Aid kit and CPR training for children.

Every  coach must pass a background check.

Every  coach must complete an in-depth personality test.
Every Soccer Kickers coach will receive an evaluation by our staff in the middle of each season. We do that to ensure that our children get the most out of their experience and for the coaches to continue to grow as leaders and as role models for the children.

We Offer
We offer 7 sessions per season.
Soccer Kickers stickers at the end of each session.
Picture of your child's class at the completion of the full session of our program.
A graduation certificate at the end of the full session of our program.
We provide equipment such as soccer balls, training vest and goals for each session.
 Our classes: 
Classes run for 45 minutes.
Classes are held at daycares, preschools,churches, public and private schools.
Classes are offered both during and after school programs.
Classes can occur inside and outside of medium or large classrooms, lunchrooms, outdoor playgrounds, parks and soccer fields.
Parent participation is welcomed, but not required.  Just come with a bottle of water, camera or a phone to take pictures and watch your child having a lot of fun with her/his friends..
Cancellations: We offer up to 2 make up sessions for any canceled class due to the weather or any other circumstances. Although we will plan to play rain or shine.
  Our Curriculum

We provide a curriculum that will help children in building self-confidence. They will learn the importance of individual work and teamwork. Our curriculum created by a professional soccer player and early childhood educator. Our goal is to  help children not only in soccer but in other social environments.