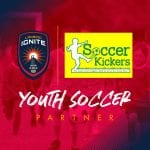 Hello Hello! We are going!
Soccer Kickers is invited to participate in the Lansing Ignite vs North Texas SC professional game on Saturday July 13 at Cooley Law School Stadium. 6:15 PM. 
We are excited to go support our new Lansing Ignite professional soccer team! We are also excited to give our kickers the opportunity to play at the Lansing ignite home stadium and for the kickers to see what it's like playing soccer at a professional level.
"Lansing has an exceptional youth soccer community, and so we're thrilled to be working with Lansing Soccer Club and Soccer Kickers, who both play an important role in developing players in the region," LIFC Vice President and General Manager Jeremy Sampson said. "This partnership provides unique, rewarding opportunities for youth players in Mid-Michigan, and we look forward to our relationships growing as the season progresses."
Note: This event is event is optional however we would love for everybody from our spring season to participate.
Last year we participated to a MSU men's soccer game we only had the older groups. But, this time we will include everyone in our program from 2 years old to 11. We hope you all can make it.
Game Day Opportunities for Our Players: 
Watch  Both professional team Warm Ups From the Team Bench
Pre Game Player Tunnel
Team Walk Outs and National Anthem
Ball Kids (On Sideline During Match)
Mini Game (On Field).                                                                                                    
Tickets are going quickly!
Lansing Ignite tickets information:
 Kids 2 and under are free!
According to Lansing Ignite "Every single kid and parent needs to purchase a ticket in order to go to the game." 
Note: Children under 3 are free! Just send us an email with your name, but  parents are still required to purchase tickets.