Spring 2024 Schedule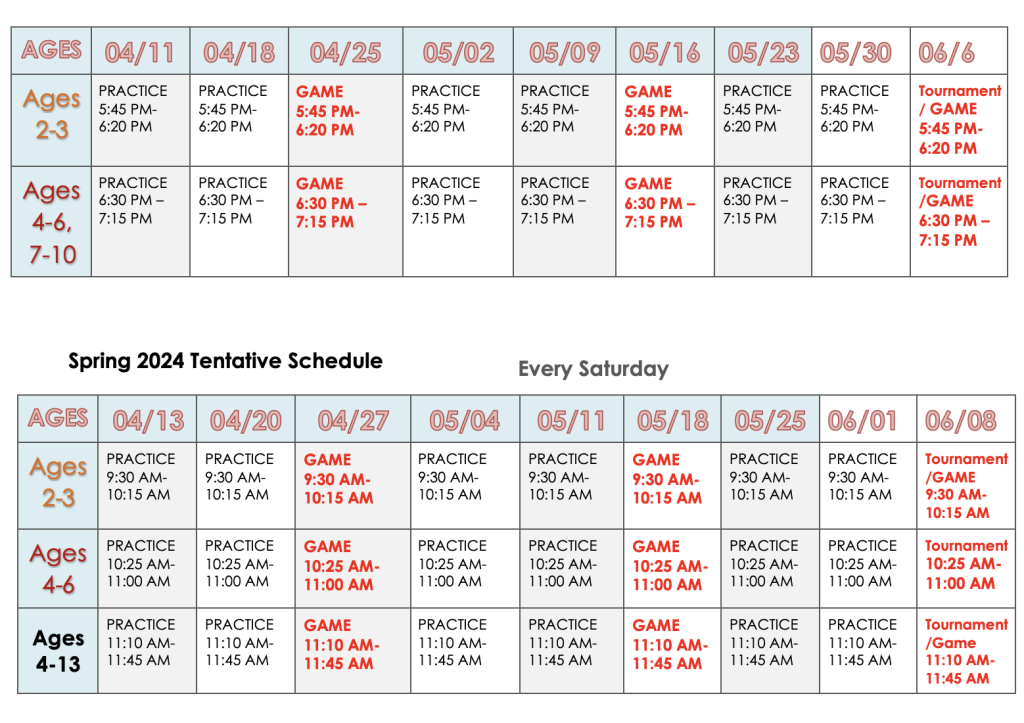 SATURDAY SCHEDULE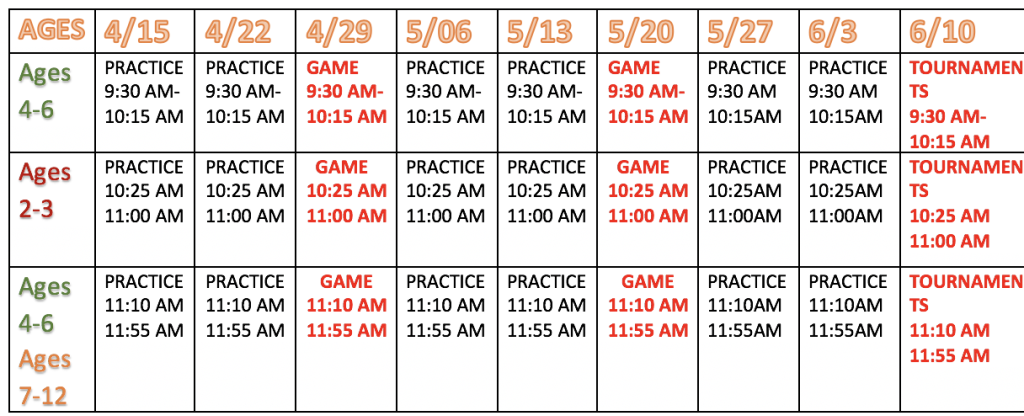 Spring Schedule 2024:
Saturdays:   ( Every Saturday).
Thursdays:  ( Every Thursday).
For the smoothest registration experience, we recommend using a PC. Mobile devices may not always work seamlessly with our system. If you encounter any issues during registration, please feel free to call us at 619-502-0147, and we'll be more than happy to assist you or email us at info@soccerkickers.com. Thank you for your understanding and cooperation!
                                                    Read the information below before you register:
NO REFUND
Check the schedule and write down the start date. If you haven't received an email or text from us 2 weeks before we start, please reach out to us: info@soccerkickers.com.  
Due to the amount of kids we have every season, we won't be able to accommodate any specific requests regarding children being on the same team.
Please pick your child's size. In parentheses we have suggested ages for the different sizes. You know your child best and if they are a bigger 2 year old or a smaller 8 year old etc. Unfortunately we won't be able to exchange sizes. The size you pick will be what you'll receive for all items you order (uniforms, jerseys, socks, shorts, tracksuits..). If you have any questions let us know!
If you are new then uniforms, jerseys, and optional socks and shorts will be shipped in order for you to receive them 1 week prior to the start of the season.
Please make sure when you fill out your registration you DOUBLE CHECK the information is correct before submitting including your child's name, your CELL PHONE number, your email, for returnees your child's CURRENT UNIFORM COLOR and all other information requested because the information you provide to us is what's downloaded into our system and what we use to contact you and create teams.
Returning parents, we try our very hardest to place your children in teams that match their ages and current uniform colors but sometimes this does mean needing to buy a new uniform rather than using last season's previous uniform.
Note that you have to pay for an ANNUAL registration fee each year that you are with us that will come with a jersey for practice. If you need a jersey before the next annual registration fee then you can purchase it in our store.
If you proceed with filling out this registration it means you agree to all the terms above.